Obsidian @ Questnet
Come and chat to Sharon & Simon at Questnet - 12-15 July @ Jupiters Hotel and Casino. Obsidian have taken out Silver Sponsorship this year, and will be at booth 32S in the main hall.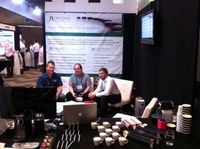 John Croft (JCU), Daniel Sloan (Procera) & Simon
Simon will be presenting on Wednesday 13 July at 2.2pm
Reconciliation and Reporting – is your Network Performing as you Expect?
so please come along and hear what Jet is doing in University networks in 2011.
https://www.questnet.edu.au/questnet2011/Speakers)